Trying to find the perfect white wine is difficult because there are so many different varieties to choose from. Understanding what makes a white wine, the difference in the tastes and aromas can help you narrow down which ones you will like and which ones you will not. For example, both Chardonnay and Sauvignon Blanc perform beautifully but these are different styles of dry white wine. The differences between them, however, are great so comparing them side by side will hopefully help you find which one you prefer.
Knowing where your wine originates from and where they make the wine of greater quality is important. Chardonnay originates from Burgundy, France and is usually produced with Pinot Noir grape. There are 491,000 acres of Chardonnay grapes worldwide. So, when looking to choose a bottle, the location of where the wine was made is important. If price is not an issue, look for North Coast California, Oregon, Cotes de Beaune (France), Jura (France) and New Zealand. If you want to save some cash but still want a decent Chardonnay, look for Spain, Chile, Italy, Australia and Languedoc (France).
Sauvignon Blanc hails from Bordeaux and Loire in France and usually grows along Merlot and Cabernet Sauvignon. There are 272,000 acres of Sauvignon Blanc grapes worldwide. A more expensive bottle of Sauvignon Blanc will usually have been grown in New Zealand, California, Washington and Loire Valley (France), but you can certainly find a great quality Sauvignon Blanc lower in price. Look for bottles produced in Chile, Italy or Pays d'Oc (France).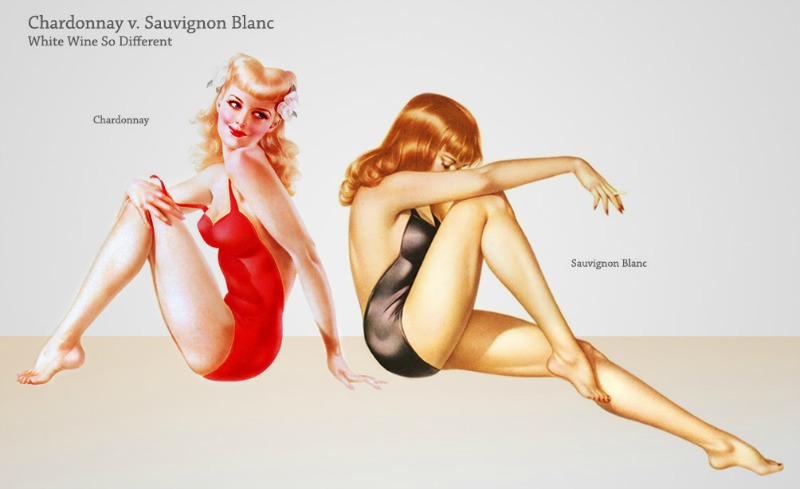 Although they are both dry white wines, the difference in flavours really is quite distinct. The primary flavours of Chardonnay are yellow apple, starfruit, butter, pineapple and chalk. Because it is one of the rare white wines that is aged in oak, sometimes you can detect hints of cream or vanilla. To know what kind of Chardonnay you prefer, try both oaked and unoaked. If you prefer lighter, zestier white wines then stick to unoaked, but if you prefer the notes of cream and vanilla try the oaked white wine.
The primary flavours of Sauvignon Blanc consist of gooseberry, green melon, white peach, grapefruit and passion fruit. Some of these top notes may change depending on the climate where the wine was produced. Sauvignon Blanc may sometimes have greener notes like fresh cut grass and even jalapeno. Very rarely you will find notes of cream and vanilla from aging in oak, this is more commonly found in pricier Sauvignon Blanc wines.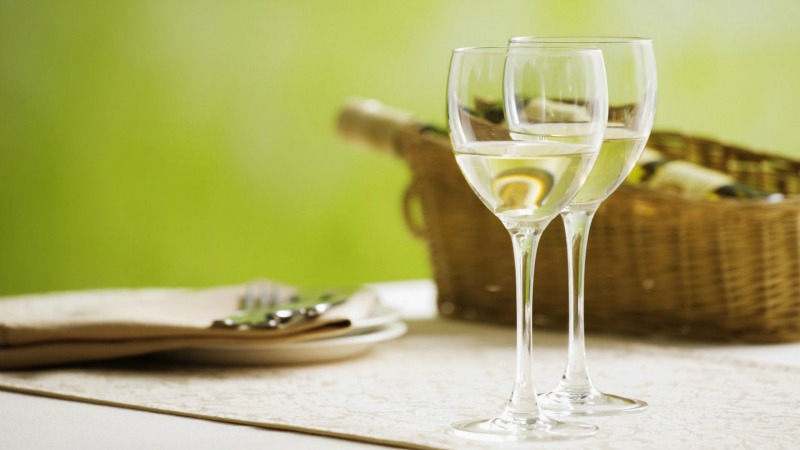 If you're looking to pair a bottle of Chardonnay with cheese, go for a semi-soft mild goats cheese or cow's milk cheese. Pairing with a meal there is a vast variety of foods Chardonnay will pair perfectly with. It pairs best with seafood, but there are a few more options such as: chicken breast, oysters, turkey breast, clams, shrimp, pork loin, scallops, halibut, lobster, trout, salmon or cod. Spices and herbs that would accompany this wine nicely are tarragon, thyme, lemon zest, white pepper and shallots. If however you are looking for more of a vegetable based dish, you can pair it with peas, zucchini, almonds, truffles, white mushrooms, sun chokes, asparagus and yellow squash.
Pairing a bottle of Sauvignon Blanc is just as easy as there are just as many options, which is what makes these wines so popular. If you want a cheese platter to compliment Sauvignon Blanc, you should choose softer, sour cheeses like goats milk cheese, yogurt or crème fraiche. Again this dry white will pair well with seafood such as clams, lobster, tilapia, sea bass, crab, mussels, perch, sole, snapper, halibut, redfish, haddock, cod and trout. If you're not a fan of seafood then you can pair it with turkey, pork chops or chicken. The herbs and spices that best compliment Sauvignon Blanc are saffron, turmeric, parsley, basil, fennel, coriander, mint, tarragon, white pepper, thyme, fennel, rosemary, chives and dill. If you prefer a vegetable based dish, serve something a little creamy and a little fatty, like a white lasagna or a quiche so the acidity of the wine really comes through.
Now depending what you like as far as tastes, or if you're trying to see what wine will go with dinner tonight, these two dry whites are two of the most versatile, highly consumed and most loved white wines around the world. You can ask around your local stores or you can even shop online to find an exact bottle you want to try.