DreamWorks' animated movie "The Boss Baby" is the perfect example of how vivid a kid's imagination can be. But this is an excellent thing, because by making use of imagination, children expand their cognitive and artistic capabilities. Imaginary play gives children the opportunity to explore the world from different perspectives and encourages their social development as well.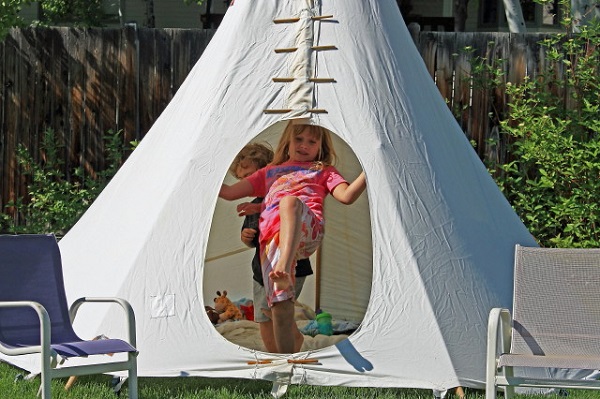 Nowadays, there are many toys available, designed to encourage kids' imagination, but only a few of them spark children imagination better than a kids teepee. A kids teepee offers the perfect spot for secret adventures and can easily become a sailboat, a rocketship, an underground tunnel, or even a pretend doll house.
If you are looking for the perfect gift for your little one, a kids teepee may be exactly what you need. Your kid will love a private place to call their own. Here are a few models for you to consider.
Outdoor Teepee
There are many options for you to choose from. Look for a sturdy kids outdoor teepee that can also be used indoors for your child to play. A kids outdoor teepee can be used as a pretend camp-out when you want your kids to enjoy some fresh air and sunshine and it can be easily taken inside and set up into your kids bedroom for a spot to read or play on rainy days – a versatile toy for all kinds of play.
Colourful Teepee
A colourful teepee made from high-quality materials can become the perfect place for many years of childhood adventures. A colourful tent with beautiful embroidered animals, stars, cars, etc, will make your child smile every time they see it. Most teepees are easy to close and store, which means they can be easily put away or moved from one location to another.
White Teepee
The ideal teepee for a child that craves self-expression. Your child will love the idea of playing in his/her personalized teepee. Look for a sturdy teepee made from white canvas that can be painted with oil or water based paint as to create a design of your child's choice – a very fun and unique way for your child to express his/her creativity.
While all teepees feature the same design, they can be of different size, so it is wise to check the width and height of the teepee you are buying to make sure it can fit easily into the space you have in mind for it. Small tents are best suited for young children, so make sure you check the internal measurements of the teepee to make sure your kid can actually have enough space to play inside of it.