Making your home or facility accessible for mobility-impaired people can make their lives much more convenient, and give them a sense of inclusion. This is a huge benefit for businesses and it simply makes sense for those who live with a mobility-impaired person. Wheelchair ramps are the most common solution for a wide range of applications, as they're available in a vast array of designs with models and materials as diverse as the people they're intended for.
Every person, mobility device and location has different requirements, so it's essential to take all of these things, as well as the wide range of designs and features into consideration when you're looking for the ideal ramp that meets your needs.
Permanent and Semi-Permanent Wheelchair Ramps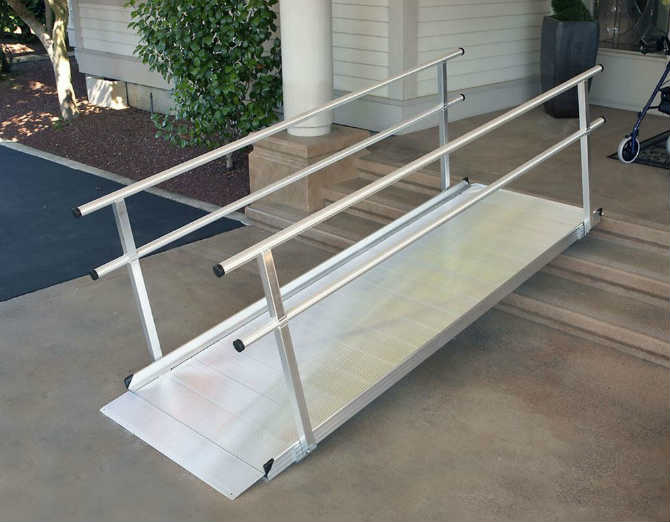 Ramps that are installed as part of a facility or home are classified as either permanent or semi-permanent. The difference between them is how difficult it's to remove them once installed. Permanent ramps, as their name implies, are often anchored in the ground with concrete and are built into the facility or home in question as a permanent fixture. Usually, they're made of metal or wood and require a licensed contractor due to the fact that they have to be built from scratch.
Semi-permanent ramps, on the other hand, are intended to remain in place, but they're designed to be easily removed and adjusted if necessary. These ramps are a compromise between permanent and portable wheelchair ramps, providing the best of both worlds in terms of versatility, strength and ease of use. Aluminium ramps are the most popular semi-permanent type, as they're lightweight, are easy to install and remove.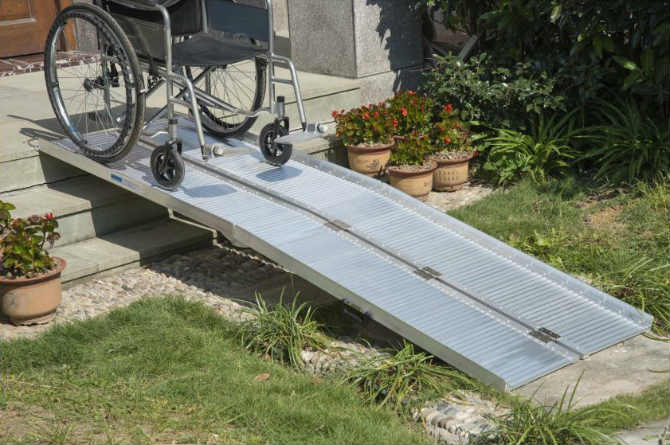 Portable Wheelchair Ramps
Portable ramps are designed for convenient use anywhere you go. These ramps are often constructed of lightweight materials and are either made to be foldable or compact for easy storage and transport. Besides providing greater freedom for people on the go, these ramps are also an ideal solution for people who rent their home or don't want to commit to living in their current home for many years.
Threshold Wheelchair Ramps
Transitions through doorways or raised landings may seem like minor inconveniences, but they can still be troublesome for people in a wheelchair, rollator or someone who has a hard time lifting their feet high. A threshold ramp provides a simple solution to this problem. It smoothens the transition through the doorway, providing convenient and safe access. There are threshold ramp models available as larger incline planes such as traditional wheelchair ramps, or they can be smaller pieces of material that make a slope on either side of the uneven surface.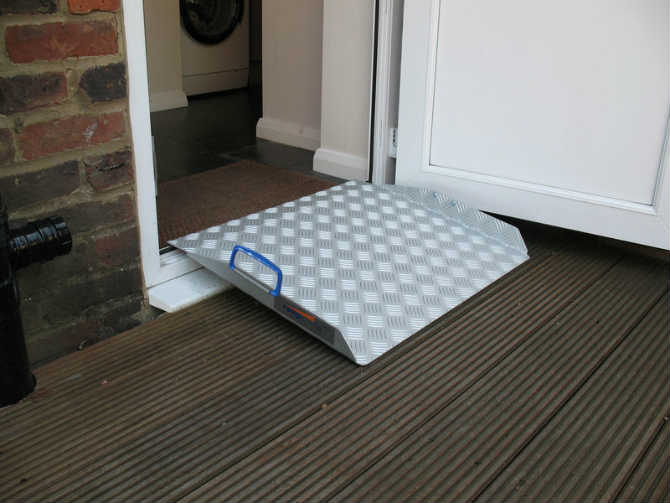 Who'll Be the Ramp's Main User?
The first thing you'll have to think about when choosing a ramp is who it's intended for. You need to take the person's weight, size and mobility into consideration. If the user is fairly active and healthy, then a more versatile, lightweight ramp might be the better option. If the user is elderly or on the heavier side, they might need a stronger ramp plus safety features like traction pads and handrails.
Type of Mobility Device Used
The second thing to consider is the mobility device that the user will use on the ramp, and whether or not it will be changed in the foreseeable future. People who are recovering from an injury or surgery and are in a wheelchair may progress to using a cane or a rollator, while those living with a degenerative condition may progress from using a cane to a walker, then a scooter or power chair.
All of these mobility aids have different requirements for safe use. Heavier scooters or power chairs will require wider ramps with larger weight capacities. People using the ramp due to muscle fatigue and weakness in their legs and feet will want to ensure the ramp is free of trip and slip hazards by adding traction pads or getting a ramp that drains freely for decreased slipping.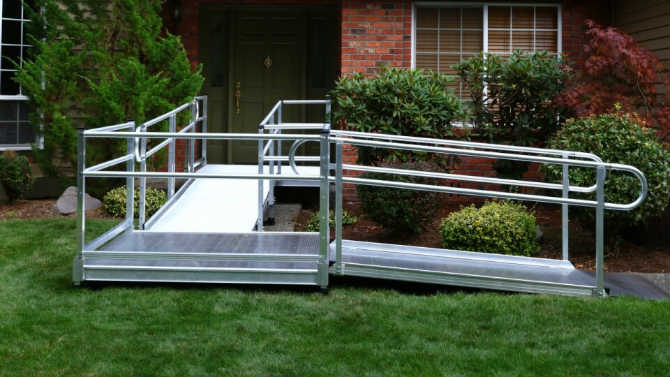 Where Will the Ramp Be Used?
Will you need a ramp that you can take with you wherever you go, a ramp for your doorway, car, rental home, or a ramp for your home of 20 years? Each of these settings will require a different type of ramp, and it's important to take the location of the ramp into consideration for your specific requirements.
For people living a more active lifestyle, a portable ramp is an ideal solution for convenient access in and out of vehicles, buildings, etc. These ramps are available in fold-up models, allowing you to take them with you wherever you go. Furthermore, for people looking to install one at a rental home or apartment, portable ramps also offer a great and convenient space to make the living space accessible without damaging the property or making permanent changes to it.