The idea of the perfect camping trip is different for everyone. Some can't imagine going anywhere without packing an RV full with creature comforts, some enjoy the room and functionality that a tent provides, and then there are the ones who like to go backpacking  and take with them just the bare necessities. If you happen to be in the last group, then you're probably looking for a good swag to shelter you from the elements as you have your good night rest. To save you from the confusion involved in choosing a swag, here are the key factors you should consider.
Size
Swags usually come in three sizes: single, king and double. Single swags are a good 60-90 cm wide and 180-230cm long. This is the smallest and most compact size and is good for people who want to pack lightly for their trip. However, if you need a bit of extra room to accommodate yourself, you may consider king size swags which measure 90-115 cm in width and have about the same length as single swags. And finally, there are also double size swags which are about 110-130 cm in width and 190-230 cm in length, thus allowing for two people to sleep together comfortably. However, keep in mind that extra room also means extra weight to carry around and less storage space for other things in your backpack.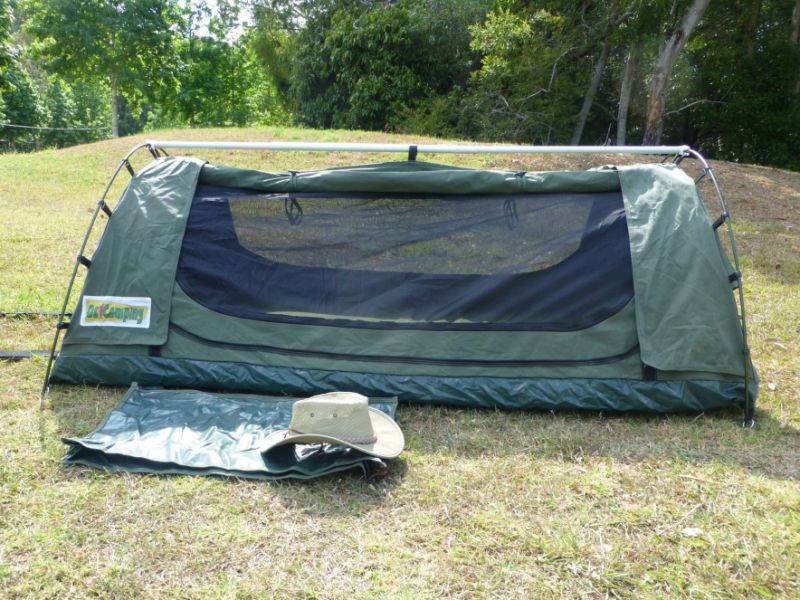 Type
There are two types of swag – traditional and dome. Traditional swags consist out of a mattress sandwiched between two layers of canvass – one that serves as the base and the other as the cover. When rolled up, this type of swag resembles a bedroll and is compact and easy to carry around if you're a hiker or a biker. Additionally, traditional swags are also usually cheaper than dome swags. Speaking of which, dome swags are bigger and bulkier compared to traditional swags. Although they are the same length and width as the traditional type, dome swags take up more room in height. As a result, they provide some space between you and the top cover which can make you feel more comfortable. Many dome models also include mesh ventilation that allows for better airflow inside the swag while offering protection against insects and other pests.
Material
When searching for a swag, you also need to consider the quality of the material used. As most swags are made of the same material – canvas, be sure to get something made of canvas that is 12 oz or higher. In general, the best swags are made of a 14oz – 16oz canvas. Also, check whether the swag is waterproof and rot-proof so that it can resist mildew and mould. This is especially important if you plan to camp in a wet or humid region. And finally, you'd also want to choose a canvas with tear check and ripstop weaves instead of plain weaves since such a canvas is a lot sturdier and able to resist tearing.