Hallway is the first thing visitors see when they enter a home and the last when they exit. Yet, in terms of design, it is often neglected, and even forgotten part of a house. Yes, its main purpose is storing shoes, coats and other accessories (such as umbrellas, rain coats, etc.) but even storing can be stylish and fun. A cabinet with hangers or a storage ottoman (which you can also use as a chair), are just some hallway furniture pieces that perfectly combine functionality and fashion.
To take designing up a notch, a buffet with drawers or a sideboard complemented with a mirror are the perfect combos of hallway furniture that can serve as an utterly functional base for additional adorning. Once you're done with tiding up and making the most of the practicality offered by the pieces of furniture chosen, don't stop there cause you are a few simple steps away from creating a mesmerizing hallway.
This means that even though we pass through them quickly, hallways can provide opportunities to create a focal point with a place to sit down, an artwork (framed photo or a sketch) or maybe even some greenery. Although you may never actually sit there, with occasional chair you can create an impressive hallway vignette. This is sure to pave the way to harmonious and put-together look.
Focal points are important because our eyes not only like them – they crave them, much like in professional photography. The eye wants to have something to focus on primarily and only then feel compelled enough to move around and explore some more. If you are not fond of plants and artworks though, you can opt for a little bit of eccentricity and add several framed mirrors.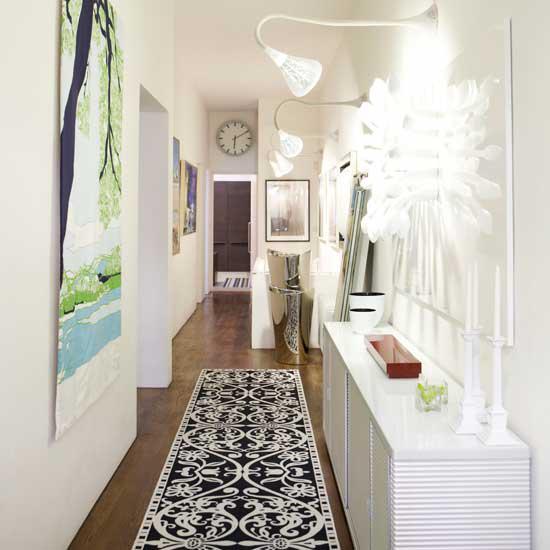 More often than not hallways call for a rug in order to appear as special as the rest of your home. Choosing a colorful rug is key if you decide to go for a dramatic welcome, whereas more subtle, earthy tones can make this transitional space feel warm and inviting. If your hallway is too narrow and you want to make it appear wider, a rug with horizontal stripes goes a long way (pun intended) in creating this illusion. If your hallway is too long and you cannot find a rug to fit it, you can simply sew several identical same rugs together.
Happy elevation to making a better home first impression!