Runway models make wearing long cardigans look so easy and simple. The normal everyday woman, however, knows how tricky these can be. Lumps, bumps and sloppy shoulders can make a cardigan look like a frumpy old house-sweater, rather than a stylish wardrobe addition. Luckily, there are a few tricks that can help you style one right and look age-appropriate and trendy.
Reasons to Wear and Adore Long Cardigans
First of all, womens knitwear pieces (including long cardigans) are warm, cozy and snuggly. All knitwear pieces are so comfortable to wear that you won't want to take them off all season. They are a simple addition to your outfit that adds a layer of warmth while at the same time enhancing your style.
Another reason why cardigans and other trendy pieces of womens knitwear are so convenient is that they offer a solution to sleeveless tops. It's no secret that a great number of mature ladies prefer to cover their arms. With a cardigan, you can wear your favourite sleeveless tops and still feel comfortable and self-confident. Moreover, long cardigans are also great for travelling. When you are on a plane, train or in a car, wearing something lighter than a jacket that keeps you warm and provides comfort is a smart idea.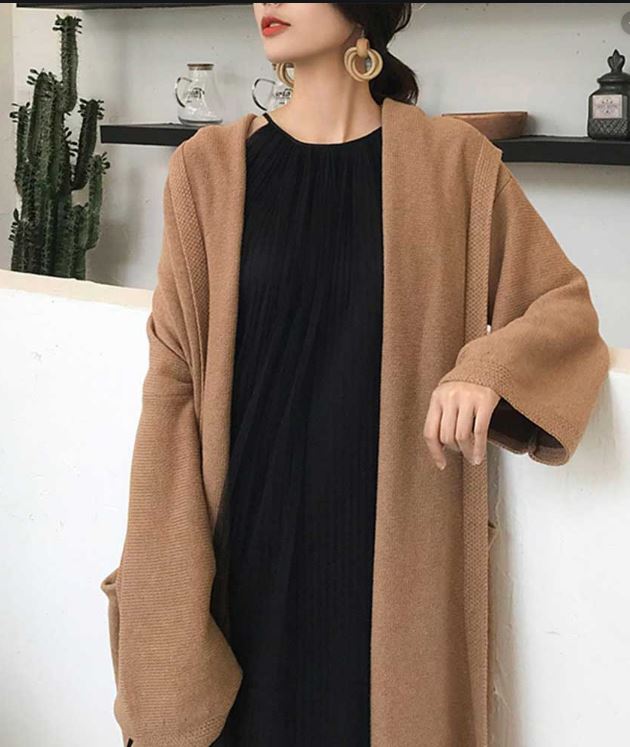 Ways to Style a Long Cardigan and Look Stunning
Wear it with Skinny Jeans or Leggings
Long cardigans add an extra layer to your outfit, that is why it is recommended that you don't add additional bulkiness on the lower part of your body. Skinny jeans, leggings or regular jeans are all options that can look great when you top them with a long cardigan. Just be careful – all of these styled with a long sweeping cardigan can be slimming, whereas baggy jeans or wide-leg pants can make you look twice your size and sloppy.
Avoid Wearing a Thick Top Underneath
Regardless of your age, comfort comes first. Wearing a thick top underneath your cardigan can make you feel hot in a matter of minutes. Plus, it creates a bulky look than no one wants. Instead, stick with a properly fitted T-shirt with a V or scoop neckline. Moreover, you can wear a stylish, silky blouse or a crisp shirt. Either of these choices would work great.
Wear it over a Dress
If your goal is to look dressy, but you still want to tone it down a bit, then look no further than a long cardigan. This piece can make a fitted dress or a shirtdress be both fabulous and cozy. If you are curvier and you like it, then push up the sleeves, grab a belt and wrap it around your waist. It is a great way to show off your waist. Just remember, the heavier the knit of the cardigan – the thicker the belt.
Wear it Over One Coloured Base
This trick is beneficial for both larger ladies who try to avoid extra bulk, and also for petite gals who are worried about being "swallowed up" by the long cardigan. So, opt for wearing one dark colour shade from top to bottom, including your shoes, and add a layer by wearing a bright coloured cardigan. This way, you will create a colour illusion that will make you look longer and leaner. And if you shift the colours and wear a light base with a darker cardigan you will look bigger – a great option for smaller ladies.