Cooktops have become the most preferable appliance for modern households, thanks to their ground breaking innovations in design and outstanding levels of performance and efficiency. Hence the reason why cooktops today come in a range of models, which is a big plus for interested buyers to choose the one that will match their cooking style, kitchen interior and available power source.
For all the first-time cooktop shoppers who want to know more before making the purchase, here is a complete cooktop buying guide that may come in handy.
Cooktop Types
There are four basic types of cooktops to choose from.
They can be 'fueled' either by natural gas or propane and they offer an exceptional control over the cooking temperatures. A gas cooktop can be sealed (featuring burners installed onto the cooktop surface) or conventional (featuring an open flame under the grate). Usually, the sealed (gas) cooktop is easier to clean and maintain when compared to the conventional models, although both models provide the same cooking ability.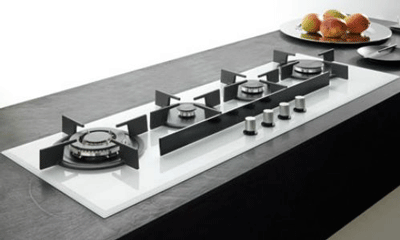 The induction cooktop generates an electromagnetic field, which gives 'power' to the cookware placed onto the coils, instead of transferring the heat to pots and pans, as other types of cooktops do. The greatest advantage of the induction cooktop is that it has proven to be way more energy efficient than the electric and gas models, thanks to:
– fast cooking (less time to prepare the meals)
– less wasted heat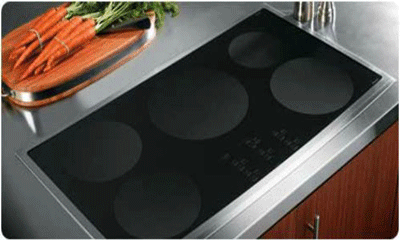 Hence, when cooking with an element-type cooktop, 60% of the heat goes into the air, while preserving only 40% for cooking. With the induction cooktop, 90% of the heat is directly generated into the cookware, thus providing greater cooking and energy efficiency.
This model of cooktop features halogen-lamp tubes that produce radiant heat. They are commonly placed beneath a firm glass surface. As the halogen-lamp tubes heat the cooktop surface, the heat is transferred to the bottom of the cookware where it is precisely maintained. Normally, it takes only a few seconds for a halogen cooktop to heat and get ready for use. Halogen cooktops are cleaned quickly and easily.
The electric cooktop uses electricity to transfer the heat to the cooking vessel. It features a variety of solid components, a ceramic-glass surface, electric coils, modular accessories and radiant ribbons. The electric cooktop provides less accurate temperatures in comparison with the gas models, which is why it is cheaper and more popular among consumers with limited budget.