With more Australians becoming accustomed to working from home with the new Covid-19 regulations, the conventional workplace is doomed for the foreseeable future. This means that some workers may stay working from home forever, with the office acting as a meeting and collaboration hub. Even if that doesn't happen to be the case, people still need an ergonomically adjusted workspace no matter the location.
Items for Completing Your Ergonomic Workspace

Because sedentary working hours may create a lot of discomforts, it's important to choose your office equipment wisely. With the help of a few essential pieces, you can design your perfect ergonomic workplace. Here's what you'll need.
Ergonomic Chair

To choose the best seating for your workstation, look at how well it supports your body and whether your lower and mid-back are cushioned when you're against the backrest, making sure there are no gaps between your spine and the chair. The greatest office chairs accommodate your back's natural S-curve, and badly constructed seats make you feel like you're sitting on a log against a hard wall.
The backrest of the chair should be adjustable in height so that the lumbar support may be positioned in the lower back. To offer support, the backrest should be shaped like the form of your back. The upper body's weight is supported by the spinal vertebrae at the bottom of the lumbar curve. The most prevalent causes of back pain are caused in the lower back, and the use of a backrest to support the lumbar curvature alleviates some of the pressure on the often damaged backbone.
The seat should be adjustable so that your thighs are parallel to the ground. Users that are shorter or taller may require various height cylinders. Adjusting the chair too high puts more pressure on the backs of the legs than is necessary, decreasing the blood circulation. If the chair is excessively low, a smaller section of the legs is in touch with the chair, and the pressure on that region is proportionately larger.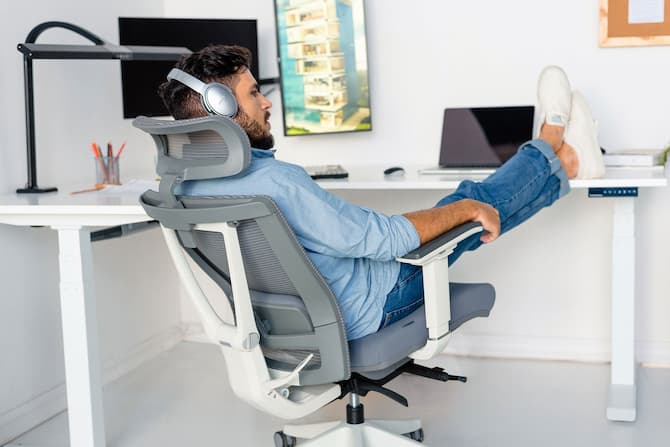 The seat pan depth should be adjustable to provide for a fist-width to three-finger space between the rear of the leg and the seat pan's front edge. If the seat pan is excessively shallow, all of the pressure from sitting is concentrated on a tiny portion of the thighs, which can be uncomfortable. If the seat pan is too deep, it will be difficult to utilise the backrest, or the front of the seat will put pressure on the nerves and tendons at the backs of the knees.
Furthermore, the seat pan should be able to swivel back and forth while you change positions. Changing your posture during the day is beneficial because it shifts the stresses of sitting to other regions of the body, enabling your body to recuperate from lengthy static postures. The front border of the seat pan should be like a waterfall to decrease the strain on the back of the thighs.
The armrests should be height adjustable too. If the armrests are too high, you may have to shrug your shoulders to utilise them, which might tyre your shoulders and back. If they are too low, you may find yourself resting on only one of the armrests.
When it comes to mesh office chairs, it's easier to talk about comfort in terms of ergonomics. At first glance, mesh chairs may not appear to be as comfy as cushioned seats, but they actually provide greater support. Mesh backrests, often provide adequate support and are ergonomically designed to match the natural curve of the spine. They can improve posture as well as the reduction of aches and pains caused by musculoskeletal diseases. Many mesh chairs allow the buyer to upholster the seat for further comfort while maintaining the mesh back for postural support and ventilation.
All-mesh seats allow better air circulation as opposed to fabric or leather office chairs which trap your body's heat causing you to sweat. This is just one of the many reasons why choosing a mesh ergonomic chair is the best option for your working station.
The Desk

A decent ergonomic desk should be used in combination with a mesh ergonomic chair to encourage excellent sitting posture, neutral wrists while typing, and easy switching between standing and sitting at work. The most crucial element to consider is the desk height since it has a direct impact on your posture and the amount of legroom underneath. If the desk cannot be adjusted by height and happens to be too low for yourself, place strong boards or blocks beneath the desk legs. And if the desk is too high adjust the height of your ergonomic chair. Again, the optimal workstation height should result in a 90-degree forearm to upper arm angle, a neutral wrist posture, and the ability to view your display without bending your neck.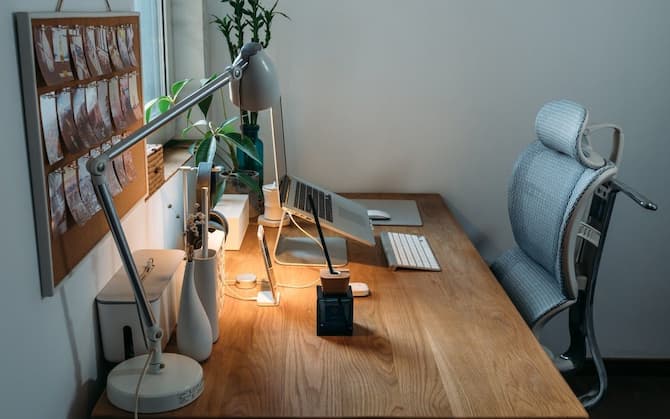 Another thing to consider is the sort of computer that you'll need. If it's a desktop, a bigger surface area desk may be required to handle a big or dual-screen setup. And if you're using a laptop, you'll need a desk with various levels to accommodate the external devices a laptop requires.
The Computer's Display Position

To avoid eye strain and tiredness, ensure sure you can easily see what's on your monitor or laptop screen without having to twist or bend your neck. Position your display so that your eye level is 5 -7 cm below the top of the screen and an arm's length away. You may elevate your laptop or monitor as needed using anything flat and broad, such as a stack of books. Consider a laptop stand for more sturdiness and better control over the height of your display.
Comfortable Keyboard and Mouse

Repetitive actions on your laptop's touchpad or a conventional mouse can strain muscles in your fingers and wrists, much as repetitive typing can cause tiredness or discomfort. Most individuals should search for a mouse that is comfortable to hold and easy to move.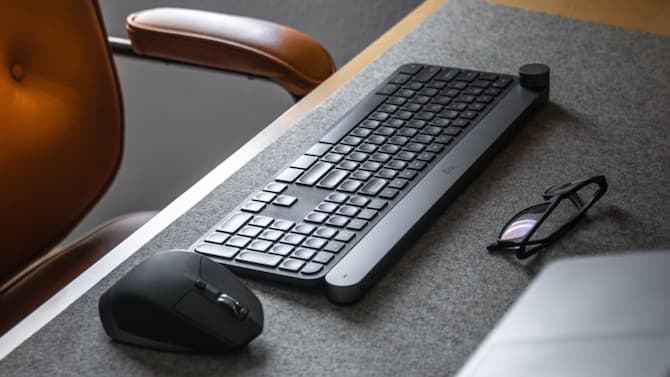 If using a mouse causes discomfort or tiredness in your wrists, consider using another form of an input device, such as a pen with a graphics tablet or a trackball, which decreases delicate wrist motions. If you suffer shoulder or wrist strain, any of these can help since they hold your hand in a neutral posture.
Good Lighting and Frequent Breaks

Experts in ergonomics advise using good natural lighting to decrease eye strain and avoid craning your neck in an uncomfortable position. Ample natural lighting at your office is excellent since it may improve your sense of well-being and vitality while decreasing eye strain. Daylight and access to outside vistas allow your eyes to relax and recover from the strain of gazing at a monitor all day. If your home office lacks windows, or if you work late or on cloudy days, combine overhead lighting with task lighting for the optimum mix of illumination to help you focus.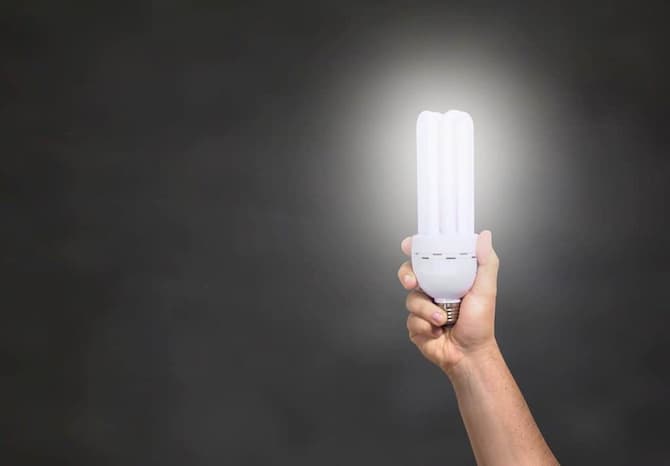 Shorter, more frequent rest periods are more helpful than longer, less frequent ones. Sitting for more than an hour without moving can cause stress on the body owing to the static posture you're compelled to maintain. Standing up and strolling around your desk three times can be enough as a break, even if it seems like it's not. When you sit down again, you'll be in an entirely different position.