Do you want to keep things pretty and flexible at your place?You know that your home is a reflection of yourself (personality and style) so why not create a different interior; something personalized yet chick, and with a subtle Boho vibe. Good life, freedom, energy, peace and love, open mind, stylish life, trendy glam, that's what Bohemian style is all about. And one more tip if you want to bring '70s trend into your home décor – you can never have enough prints and leafy décor (plants). Here are few bohemian home decor style ideas just to inspire you and give you a glimpse of what your new home will look like.
Mix Old And New
You can mix your modern furniture with some rustic vintage finds to get that rich yet fresh look. For example, a flea market jug on a lacquered table or modern serving tray to hold vintage sugar bowl on the table as a décor will give an unexpected look to your living room. Mixing modern and traditional may sound a little strange, but if you want a stylish home, know the rule is that there are no rules.
Add a Valance
Indians called it a Toran. It's a short piece of cloth that is placed across the top of a window as a decoration, and I like the most vintage ones because they give such a magic look to frame door and windows. Select one you like and believe me it will look stunning.
Add Bells, Tassels & Charms
A spirited soul will definitely like to add bells, tassels and charms; they give such a charming look to a room. Hang them on your doorknobs or drawer nobs, or wherever you feel they fit.
Low Maintenance Flowers
They will give an instant bloom and freshness to your home. The other good thing is that they are easy to care for, so they won't take much of your time. Put them in a low light and water them very little.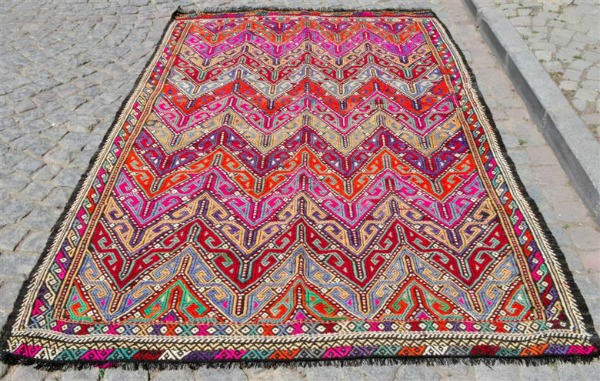 Kilim Rugs
Liveliness is a synonym for Bohemian home decor style. For example, vintage kilim rugs are all about colour and pattern. Lay a kilim rug to cover the whole floor for extra warmth and coziness.
Lights and Lanterns
These are my favorites, especially Moroccan lanterns. Mix and match colours, shapes and styles; you can also mix and match size wise, for example, get one big and few small ones. Instead of a chandelier use a big Moroccan lantern in you living room, and hang the small ones on the balcony to give it an authentic look.