Once you hit a certain age, there will be many times when you think – "I'm too old for this.". By now you've probably figured out you're too old to waste time on people you don't like. Life is so much better when you're happy with your relationships and we don't need a Harvard study to confirm this. But what about jeans? Can you be too old for them? Nah-uh! When chosen and styled right, jeans can look amazing on you no matter your age or body shape. And just like surrounding yourself with great people, a flattering pair of jeans can do wonders for your mood, trust me. So, let's get down to the business of finding you a pair of jeans that you can rock with confidence.
Can Older Ladies Wear Skinny Jeans?
Let's make things clear. First of all, there's no age limit to skinny jeans. There's not even a body shape limit. Skinny jeans are not necessarily designed for skinny or young people and everyone can wear them. On the contrary, the right skinny jeans can make you look leaner. So, truth be told, the only reason not to put on skinny jeans is if you feel uncomfortable in them. But even this is no problem once you find the right pair. So, what makes a good pair of skinny jeans for older ladies?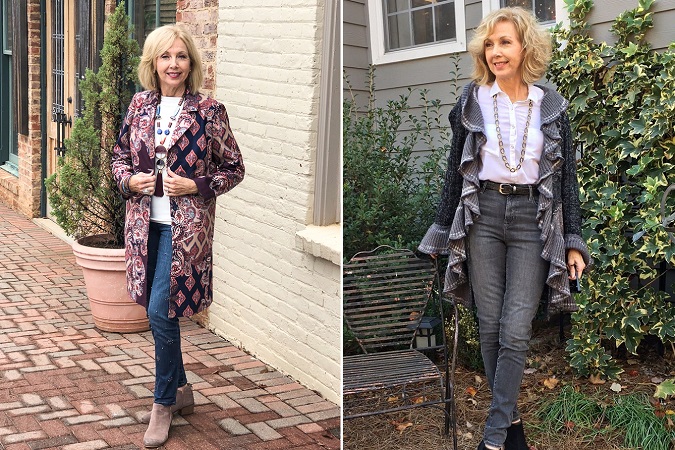 Well, it all comes down to how they're cut for your body. If you don't have time to inspect each pair in detail, you can try shopping from stores that carry mature fashion, including skinny jeans for older ladies. But most jeans suitable for older women are either high rise or mid-rise. This means they offer some coverage for our ever-changing midsection. They also often feature some type of elastic band in the waist area to prevent a "muffin-top" from forming.
And when comfort is concerned, look for a pair with a good amount of stretch. As you grow older, you'll find that you no longer have the will to tolerate garments that are super tight. And stretchy skinny jeans can feel just as comfortable as leggings while being a more sophisticated alternative. Of course, a big factor that affects whether skinny jeans look good on you is how you style them. Because skinny jeans look youthful on their own, avoid wearing them with printed T-shirts and instead opt for classic monochromatic or checkered designs. If you feel that they place too much attention on your hips, try pairing them with tunics, long blazers and similar items that provide some coverage.
If you're still having doubts about skinny jeans, or simply don't like the way they look on you, you can never go wrong with a classic boot cut. Boot cut jeans look great on women of all sizes and shapes and are actually back in style now. Plus, when worn with a wedge shoe or booty, the extra length can create an elongating effect.
A Word on Washes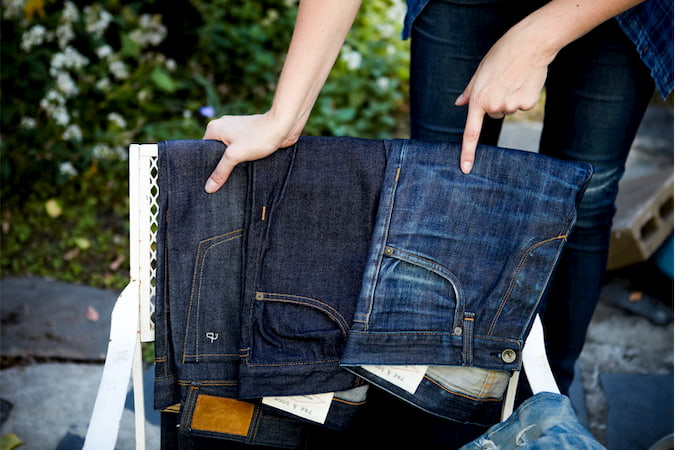 While you can be free to pick all kinds of jean washes, a darker wash offers you the advantage of making you look slimmer. Plus, a pair of dark blue or black jeans can be one of the most versatile items in your closet as it can be paired with everything. And while light washes are only practical to wear in dry and warm weather when there's less of a risk that they get dirty, a darker pair of jeans can be worn all year round. Plus, they look great when tucked into ankle or calf-height boots.
Nevertheless, white jeans can look flattering too and are super comfortable for the summer as lighter colours help you stay cool. However, make sure that they have are straight-legged or skinny fit. Flare cut and relaxed fit jeans in a white colour can make you look a bit bigger than you really are. And flare jeans in a white colour can get dirty super quick. Although darker washes may create an elongating effect, lighter washes may look more flattering for certain figures. If you feel a bit top-heavy, jeans in light or bold colours like red or yellow can draw the eye down and help balance out your proportions.
Avoid Too Much Details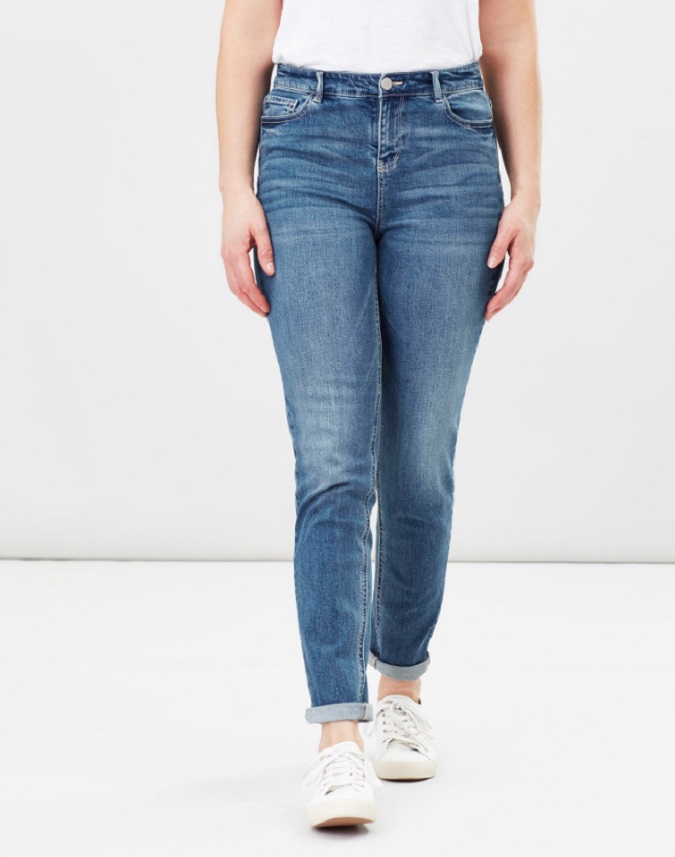 Jeans that are adorned with details like embroidery, patches, beads or distressing can add character to an outfit. However, they're not really suitable for every occasion. Simpler, clean jeans can be matched with everything in your wardrobe, whereas pairing jeans with details needs careful consideration in order to avoid looking fussy. Distressed jeans can take guts to wear, but they definitely look cool and can add the right dose of youthfulness to an outfit. However, make sure to keep the distressing to a minimum and opt for a looser jean, not a skinny fit. Avoid jeans that have large holes in them or look like they've been in the way of a lawnmower. When wearing distressed jeans, be careful not to pair them with tops that feature an abundance of details.