As much as we try to decorate our homes and make them look as modern and fancy as possible, we always seem to lean towards the cosiness and the familiar feeling of warmth and security we felt while growing up in our grandmother's kitchens, tightly holding on to her skirt as she would prepare the most delicious pastries ever. Oh, that smell; even nowadays as I pass by a bakery or a pastries shop I stop for a memory flashback: my granny's kitchen and me trying to follow her footsteps into becoming a great baker. Oh well, worth the try.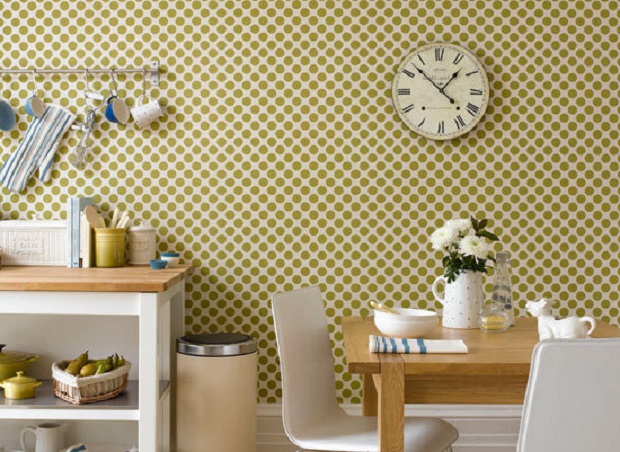 I think about my grandmother's kitchen often; she cared about it so much and always kept it sparkly clean. Along with the smell that plays with the desire for food, her kitchen had a charm of it's own emitted through every pore of that space: the retro wallpapers that covered the walls, the set of fine china and the hanging cooking pieces all perfectly arranged for an easy reach. In the attempt to make my kitchen look a little different than the average designs seen on the Internet and interior design magazines, I decided to take the best parts from my granny's kitchen and incorporate them in my otherwise very modern and equipped with high technology kitchen.
The first thing I'd suggest you do in case you're up for the same challenge, is to buy retro wallpaper to cover the walls in your kitchen. The walls are a huge decorative element and nothing will say 'retro' more than a nice wallpaper combined in colour with the rest of the kitchen furniture. Go with pastels, as you can never go wrong with these nuances of colour. They go perfectly well with either metal elements or furniture made of wood. Before you buy retro wallpaper, determine what kind of colour and design would best suit the surrounding area around the walls on which you chose to install them.
Next thing would be to get as many fine china as possible: plates and cups being the most important pieces you need to have in your palette. Kitchenware and glassware can really bring you back in time like a time machine; remember when you used to eat in ceramic plates with artistic drawings on them? Or your favourite cup with the little classy people drawn on it? To make the entire picture even more retro, get a hanging rack which you'll attach on any of the walls in your kitchen. Hang all the cups and exhibit the plates: is there a more familiar look?
For a final touch, don't forget to decorate with fresh flowers. We may still be blinded by the blings and the shiny appearance of high technology, but as people grow old, they understand the importance of human connection with Mother Nature. Fresh flowers in yellow and red colours along with some green leaves will contribute to the retro kitchen you're aiming for and will allow you to bring a little nature inside your modern, technology-driven kitchen. Just like granny used to do.