During the span of almost seven decades, Toyota has produced a line of 4WD cars that have been the envy of all car manufacturers. This includes legends like the Landcruiser and the Hilux, and a host of models emanating from their robust, virtually indestructible mechanical and chassis underpinnings. One such car was the Toyota 4runner, with the first models being based on the Hilux, and the third generation and the last sold in Australia, based on the Prado. With such off-road heritage, the 4runner has seen its fair share of the outback, or anything that you can throw at it, and it won't let you down.
Built around bullet-proof engines, a sturdy chassis, and lasting drivetrains and suspension, the 4runner has been modded and accessorised to the brim. All this to get the most of what the car was built for – off-road driving. You'll find a range of accessories still sold for the 4runner, even though it's been discontinued for well over a decade. These include exterior accessories to help you with the rough stuff, interior accessories to replace things like worn-out seats, and everything that's needed for week-long camping trips or serious adventures in the sand.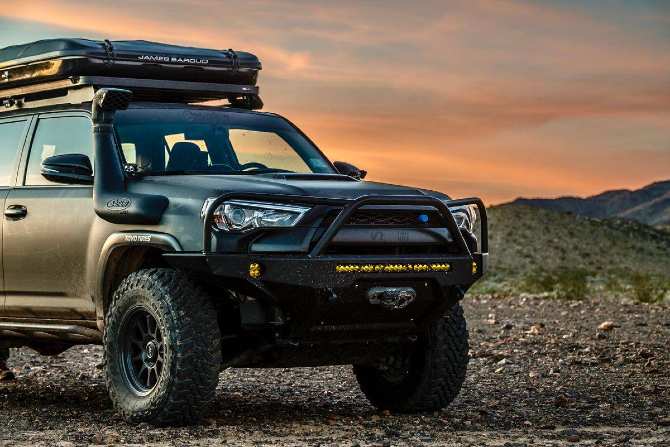 Exterior Accessories
The first thing to look for when buying Toyota 4runner 4×4 accessories is some decent protection to the engine and underbody. If your car doesn't already have one, a sturdy aftermarket steel bull bar will keep rocks, branches and debris getting into the engine bay. It will also keep your lights and grille intact from unexpected encounters with Australia's favourite marsupial. Look for a bull bar that is winch compatible if you're heading in thick bush, and you can also add a rear bar. If you're fitting larger off-road wheels and tyres, look for fender flares to accommodate them. Aussie-made flares will suit harsh Aussie conditions and will keep the underbody dry and protected. In addition, there are window visors to keep water out when you're driving through river crossings with open windows. An aftermarket snorkel will do the same thing but also improve air intake.
For added storage, you can go for aftermarket racks. These Toyota 4runner 4×4 accessories come in a range of sizes and configurations. You'll find canopy racks for your 4runner in 1250mm, 1500mm and 1700mm lengths. Most will be compatible with awnings and rails when you want some shade from the sun. If you're going biking, a bike rack will free up space inside.
Interior Accessories
On the inside, you can arrange your stuff so it's easily seen and accessible. Cargo nets keep big things from scraping the seats, or worse, from flying about and causing damage and safety hazards. There are also heavy-duty drawers you can install in the boot to keep things from breaking. Some will include 12V sockets and lighting, useful in all situations. For smaller things like phones, maps, keys and the like, there are seat organisers. You'll know where everything is without the rustling noises. If there's damage to seats, get a cheap set of polyester seat covers.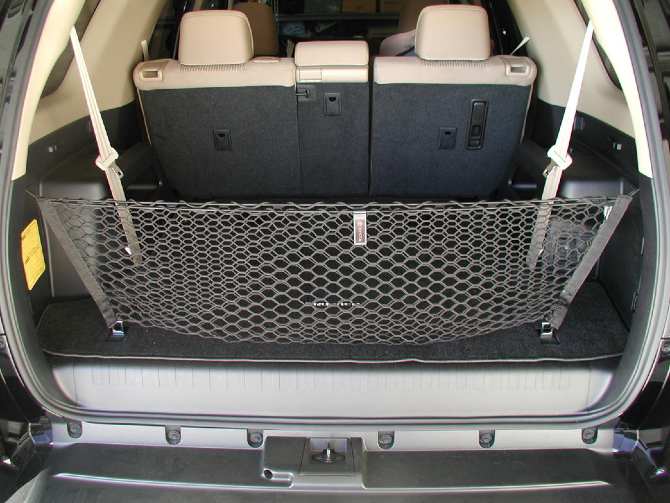 Other Essentials
If you're heading out into the bush for longer periods, it's a good idea to go prepared. Expect to get bogged down, but not surprised and desperate. Some recovery equipment, like winches, straps and tow kits should get you out of most unwanted situations. Make sure your tow points are in working order. When driving at night, and if you've got a bull bar, you can add a few more front fog lights. They'll be useful in dark, remote areas, on unsealed roads, or any small unlit towns. And you can fix these on top of a roof rack and set them how you want. Always consider safety when going for longer trips.
You've probably used your 4runner for a family camping trip. Both diesels and petrols have decent towing, so hauling a camper around shouldn't be a problem. The battery can provide power for things likes fridges and freezers, or anything that consumes more power. Consider getting portable panels or powerbanks for charging phones and computers. For more available space, different kinds of awnings and screens fitting to the rails will come in handy. Or you can get a rooftop tent if you like things high. Other basic camping gear, like gas burners, chairs and tables, utensils, lights, mats and sleeping bags will fit in the boot or the campervan.
Buying Accessories for Toyota 4runner
You can purchase a range of exterior, interior and general outdoor accessories from a range of stores. For things like bull bars, fenders and snorkels, you can also go with stuff suitable for the Hilux, as the parts should be compatible. Just look out for the manufacturing year of your car. Toyota is famed for its reliability, but if you've got a car with high mileage, there's a host of spare parts that are sold, new or used, depending on what you need and how much you want to spend. For camping gear like tents, awnings and fridges, you can check out all camping stores. And for all the rest, your safest bet is to visit your nearest 4WD shop.