Self-care routines needn't be complicated. Simply having a good quality bath towel is one easy way to pamper yourself – after all, you do need to bathe in order to stay clean and maintain your personal hygiene. Bath linens, including bath towels, hand towels, and washcloths are as much fashion accessories as they are a necessity in every household.
From the comforting warmth of a fluffy bath towel to the subtle artistic touch of a well-placed hand towel, bath linens can enhance the overall look and feel of your bathroom. Although it seems insignificant, the warm and cosy feeling of a clean bath towel lends an ambience of contentment and comfort to the beginning and end of each day.
Having a pleasant, luxurious bathing experience largely depends on the towel which you use after taking the warm shower. You could get an uncomfortable experience if you use the wrong one. So you should have the right idea about your bath towel. Given the wide range of colourful and soft towels, you might be a bit confused when choosing the right one. This towel buying guide will help you pick the best bath towels for you to pamper yourself at home.
How to Choose Bath Towels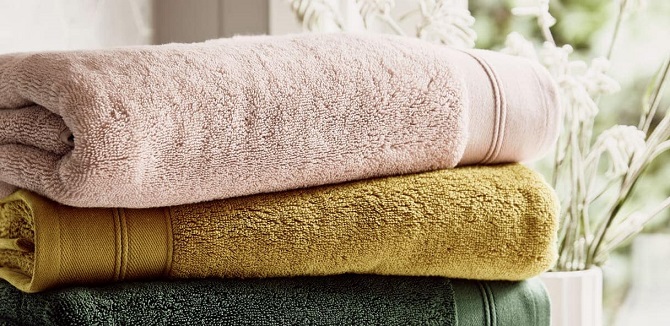 Though it can be a bit confusing, finding the right bath towel sets is not as difficult as you think – after all, it all comes down to your personal preference. Some people like super-soft, ultra-absorbent cotton towels, while others prefer quick-drying, lighter fabric towels.
When towel shopping, the feel and absorbency are very important considerations. The primary function of a towel is to soak in any moisture content so it has to be absorbent. But what usually catches your eye is the colour and the style of the towel. Let's take a closer look at these towel buying considerations that will help you make your choice better and faster.
Absorbency
The primary function of a towel is to soak in any moisture content so it has to be absorbent. When choosing a bath towel look for a nice deep pile created with thin yarns. There is a standard of measurement for fabric called GSM or grams per square meter that will help you understand whether your towel has a deep pile and thin yarn. GSM shows the fabric weight – the higher the number, the more material has gone into each square of fabric. Generally, a GSM higher than 500 is a good indicator of a quality towel.
Thicker, heavier towels are usually more absorbent than thinner, lighter towels. Whether it's Egyptian, Pima, Combed, or Carded, cotton towels are typically ultra-absorbent. Towels made with rayon are even better at absorbing water than cotton. Keep in mind that the more absorbent the towel, the more time it takes to dry when laundering.
Softness
More often than not, towels feel softer in the store than they do after a few washes. All that hard water and friction along with the regular exposure to oil and soil can wear the fabric down. Towels made with rayon and Pima or Egyptian cotton are very soft as their yarn is smooth and silky and less prone to fuzzies. Towels need a little tender loving care now and then, in order to keep them feeling their best. Actually, the secret to super-soft towels is to wash them properly, avoiding overdosing with detergent as it can leave towels stiff.
Style
When it comes to style, there is a wide range of soft and fluffy bath towel sets coming in eye-catching designs and a rainbow array of colors that you can choose from to complement your bathroom decor. A fresh set of simple white or towels in soft neutral colours is a timeless choice, adding a sophisticated and stunning deep look to your bathroom.
Types of Bath Towels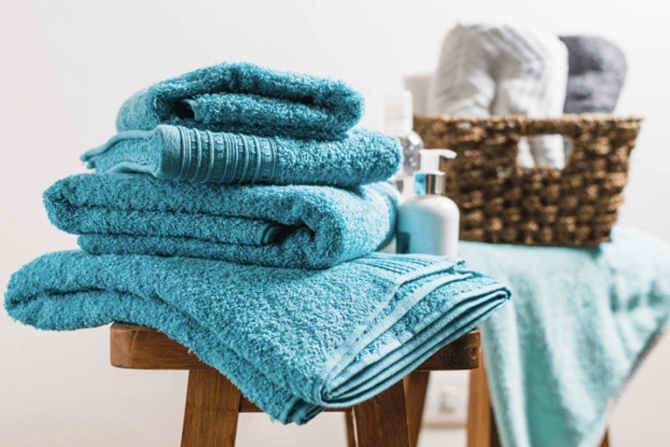 You will definitely want a luxury bath towel set that is soft, absorbent, quick-drying, and shrink-resistant, but a lot would depend on the type of fabric. The material type is the most important feature of a bath towel. Most bath towels are made of cotton, and there are different types of cotton towels that vary in their softness, absorbency, durability, and colourfastness.
Here are some of the most common bath towel fabrics:
Organic Cotton Bath Towels
Of all the raw materials that are used to make towels, cotton is the most preferable choice. As a natural product, organic cotton is free of chemicals, untouched by unnatural fertilizers or pesticides. Unlike synthetic fibres, organic cotton bath towels are super absorbent, durable, and breathable. They are extremely soft and comfortable for use as the cotton doesn't irritate your skin. In addition, cotton bath towels come in different colours other than white which gives them a fine finish.
Egyptian Cotton Bath Towels
Egyptian cotton bath towels are one of the most popular types of bath towels. Made of the highest quality cotton, Egyptian cotton bath towels are extremely durable and can have a very long lifespan if properly cared for. The fibres used for this particular bath towel are extra-long and highly absorbent. Hence, their exquisiteness combined with pretty colours makes them a popular choice among many people.
Pima Cotton Bath Towels
Pima cotton is the American cousin of Egyptian cotton. As an extra-long staple length fibre, Pima cotton is perfect for creating luxurious and durable towel sets that ensure excellent quality and colourfastness wash after wash. Like their Egyptian relative, Pima cotton bath towels are known for being strong and very absorbent.
Turkish Cotton Bath Towels
Made with extra-long cotton fibres, Turkish bath towels are similar to Egyptian cotton towels. These thick and luxurious towels are known for being soft, fluffy, and strong. Turkish bath towels can endure a lot of wear and tear, which gives them a long life span. Though they may not be as absorbent as Egyptian cotton, Turkish towels are still absorbent and ideal for soaking moisture, especially in warm, humid climates.
Bamboo Bath Towels
Bamboo bath towels are another popular towel option due to their eco-friendliness. Bamboo bath towels can be made by using 100% bamboo, but more often than not towel manufacturers use a blend of bamboo and cotton. A bamboo-cotton blend is known for being fluffy and flexible. It's also super absorbent, odor-resistant, and durable. In addition, the bamboo plant is naturally anti-bacterial, owing to its growth in a pest-free environment. Infused with vibrant colour shades bamboo towels surely look very appealing,
Microfiber Bath Towels
As a fairly new type, microfiber bath towels have gained much attention in the last few decades. Made from polyester and polyamide fibres in an 80 to 20 ratio, these towels are compact and lightweight which makes them ideal for backpackers and hikers, or for use on the beach. Microfiber towels also have a good absorbency power and are good at grabbing dust, dirt, and oil very easily.