Comfortable, long-lasting and easy to clean. These are the three things you should look in a floor as this 'trio' is the ideal base for a learning environment. From crawling toddlers to preschoolers, the chosen floor should be comfortable and safe for children of all ages. That is why, choosing a sustainable solution that can meet the highest standards in accessibility, hygiene and indoor air quality is crucial. It seems that commercial vinyl flooring has become the leading in the category.
While the exterior building materials like wood, bricks and concrete can keep kids safe from the weather elements, it is the indoor materials that play a huge role in how safe and healthy they'll be when inside. Besides being durable, cost-effective and aesthetically appealing, commercial vinyl is also one of the safest flooring solutions on the market.
Be it commercial vinyl flooring tiles or commercial vinyl sheet flooring, both of these types combine high-performance with optimum style. These flooring solutions are available in a range of patterns, giving you the opportunity to create something eye-catching and kid-friendly. Practice has shown that well-planned patterns with the use of a maximum of two to three colours are ideal for creating visual interest while not being intrusive. The use of too many colours, on the other hand, can visually distract children, making it difficult for them to collaborate. Vinyl floors do not contain any toxic chemicals, are slip-resistant and soft underfoot, which makes them safe and ideal for kids.
The Most Common Vinyl Flooring Types
Sheet Vinyl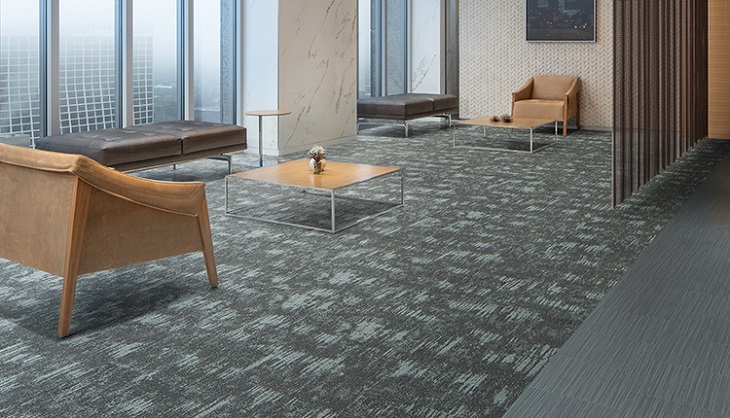 Durable, water-resistant yet appealing – these are the three words that best describe sheet vinyl commercial flooring. Besides this, commercial vinyl sheet flooring has another great benefit, its ease of installation. Since it's laid from rolls, it's almost impossible to see joints which can contribute to being more effectively sealed. This flooring solution is ideal to be used in high-traffic areas and in those that are likely to get wet. Art areas, dining rooms and toilet rooms are the most common spaces where you can find sheet vinyl floors.
VCT (Vinyl Composite Tile)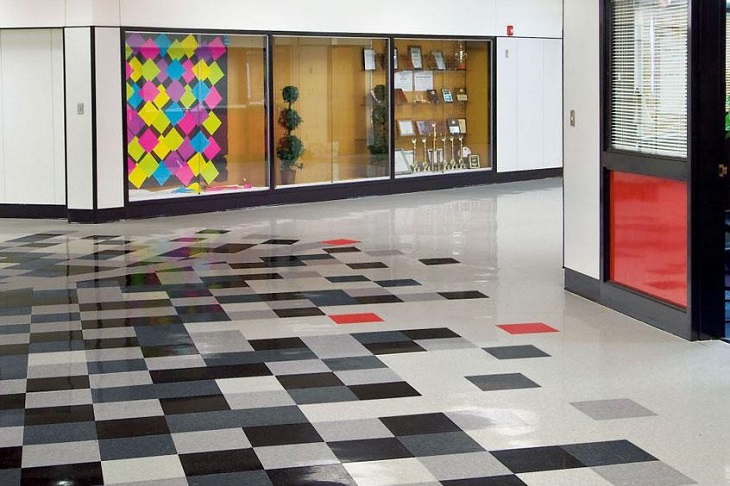 Vinyl composite tiles are mainly used in hallways and classroom activity areas. Just like sheet vinyl floors, they are also resilient, affordable, easy to clean and maintain. If properly installed, they can also withstand water. Additionally, if properly waxed, vinyl tiles can resist stains, spills and scratches. If broken or cracked, they can be easily replaced without having to replace the entire floor.
How to Clean Commercial Vinyl Tile Floors?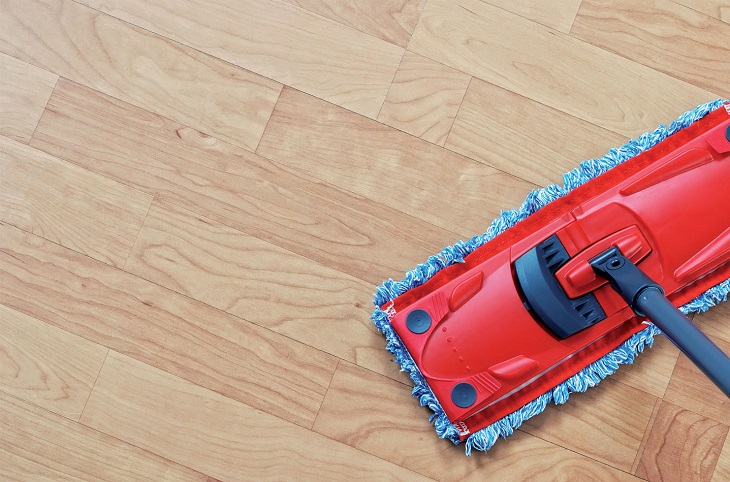 The highest quality vinyl flooring solutions usually have polyurethane surface treatment which provides an excellent foundation for an ongoing cleaning regime. This can surely lead to maintenance cost savings. Keeping vinyl floors clean will not only improve their appearance but will also help maintain the health of children, especially of the ones who are still rolling and crawling.
How to Polish Commercial Vinyl Flooring?
Vinyl floors should be polished once their surface loses its shine. In order to do this, first, the floor needs to be cleaned thoroughly with the help of a vacuum cleaner and a floor cleaning detergent. Vacuuming the floor is essential to get rid of any dust and dirt while mopping it with the right detergent is essential for removing stains. Then and only then the floor can be polished with the appropriate polishing product. Usually, polish products need to be applied in thin layers with smooth mopping moves, however, reading the product's instructions is important to reap the benefits.
Other Flooring Solution
Carpet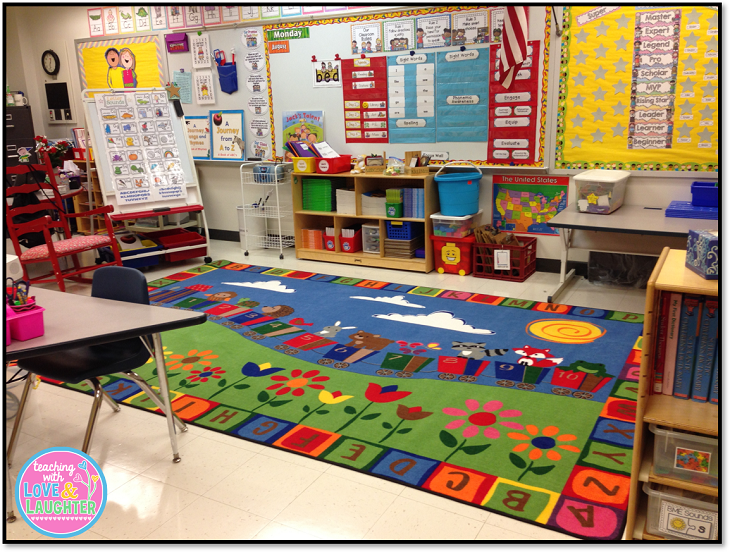 It's not unusual to see carpets in school facilities. In fact, carpeting is mainly used in some activity areas and nap rooms. Warm and homey, carpeting is usually installed over a pad and is a common choice for the youngest population. Just like vinyl, carpets too can come in all sizes, types and densities, so in order to choose the right one, you should take all this into account. However, instead of just installing carpeting, a lot of facilities have installed vinyl sheets or vinyl tiles as the main floor and rugs in different sizes on top of them. This will give you the freedom to make changes while still having appealing flooring even without a carpet or a rug.
An important thing to have in mind is that the least expensive flooring option can be the most expensive to maintain. That is why choosing quality over quantity is always better. So, when in the search for the right vinyl flooring solution, make sure to look for quality floors that can last and withstand the everyday wear and tear.