Dressing for business can be a real challenge. No matter if you work in an office, or you just had an interview, or attended a corporate meeting, you certainly understand how difficult is to dress in style and yet feel comfortable. Women's work attire has evolved dramatically over the years and striking the right balance between formal and casual can be tricky. Luckily, today women are free to interpret business attire in many different ways. From womens work tops, pantsuits and skirt suits to business dresses, if you mix and match the right colours and style combinations, whatever you choose will work well.
Work Shirts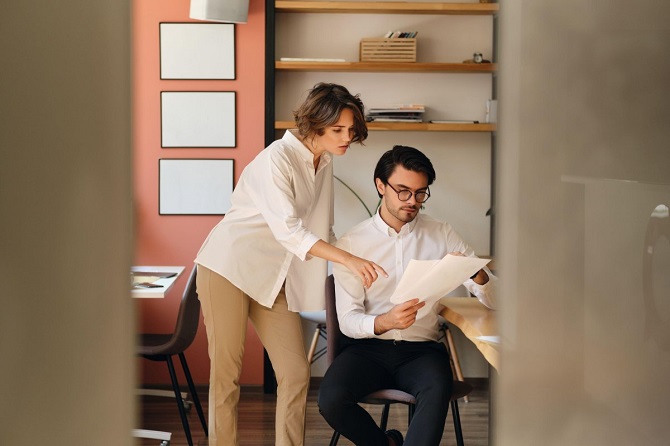 Today, the demand for womens work shirts is increasing as these are the staple of every working woman's wardrobe. They can be smart and professional, available in different materials and colours for every type of setting. Let's see what you should consider when shopping for womens work tops.
Comfort and Quality
When it comes to workwear, comfort is the most important thing, because a person has to wear it all day long and if it's not comfortable enough it will have an impact on the person's productivity. Most womens work shirts are made from low-maintenance and breathable fabrics, which makes them pleasant and stylish at the same time.
You can find work tops with long or short sleeves to stay comfortable in all kinds of temperatures. When it comes to quality, always look for workwear tops that are made of pure cotton or a combination of cotton/poly fabric. They are very comfortable to wear, light on the skin, durable, super soft and easy to care for. Feeling comfortable will not only affect your productivity, but it will boost your confidence and will give you courage to take up new challenges
Colours
When talking about colours, you can't go wrong with a monochromatic work shirt. Most opt for darker primary colours such as black, brown, grey or dark blue. Workwear tops in these colours look elegant, don't attract too much attention and yet are very stylish. However, if you are more into bright colours and you are wondering which ones are most acceptable in professional workplaces, that would be cream, velvet, crimson or silver. You can easily combine them with black or navy blue slim fit suit and high heels that are particularly great option.
However, fashion changes constantly and new colours and textures are becoming popular among businesswomen. Today, companies are becoming more flexible with the dress codes in offices and that gives you freedom to experiment with more colours and styles. But for those mornings when you can't make up your mind on what type of top will be the most appropriate, you can't make a mistake if you have a simple white or black shirt. These colours give a neat and professional look, so investing in tops in these two colours can make your life easier.
Work Suits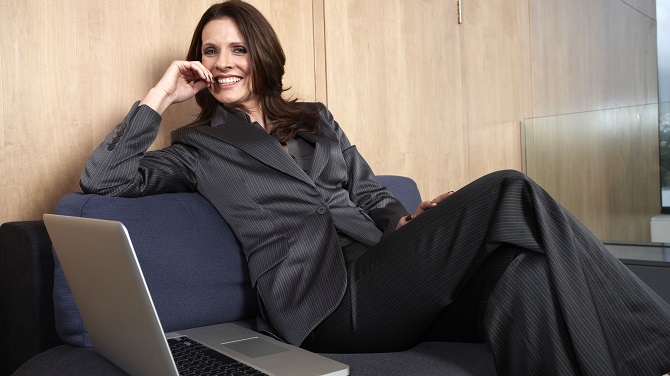 Usually women's work suits are sold separately, so if you wear suit pants and a suit jacket in different sizes, combining them will not be a problem at all. Women's business pants come in different styles including cigarette styles, bootcut, and straight-leg. When choosing the right pants, select the ones that best flatter your body type and pay attention of the length. Make sure that they don't bunch at the bottom, but if they do, take them to a tailor instead of cuffing them.
As for the colours, neutral hues like grey, black or navy are perfect. Once you choose your favourite pants, choosing a jacket will be much easier because normally they go with the same colour and material as pants. So, to complete the look you only need to add a monocromatic workwear shirt and some court shoes that will make you appear sharp and stylish.
Business Dresses & Skirts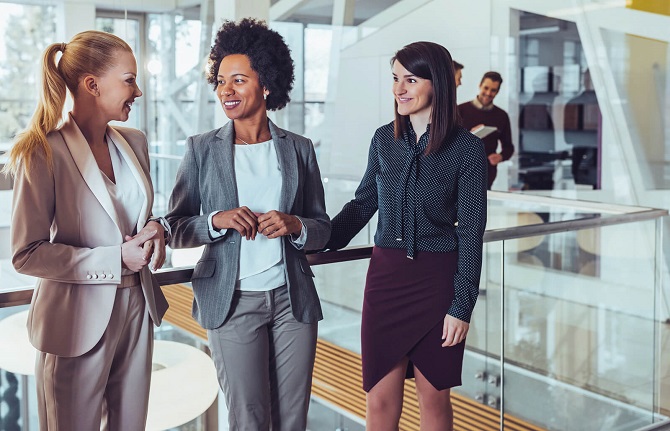 Workwear dresses just like skirts, should be well fitted but not overly tight. Their length should finish at the knees or below and they shouldn't be too revealing. There are short and long-sleeved business dresses that are more appropriate for business settings, but if you choose a sleeveless style dress, you should combine it with a shirt or a sweater underneath, or a blazer on top.
When it comes to colours, you can be free to pick a dress that has several colours or a simple, elegant print. A dress in black and white stripes also looks great in an office setting. On the other hand, when it comes to skirts, it's best to go for monochromatic ones which can be matched with a variety of tops, jackets and blazers.
Work Outfits Depending on the Occasion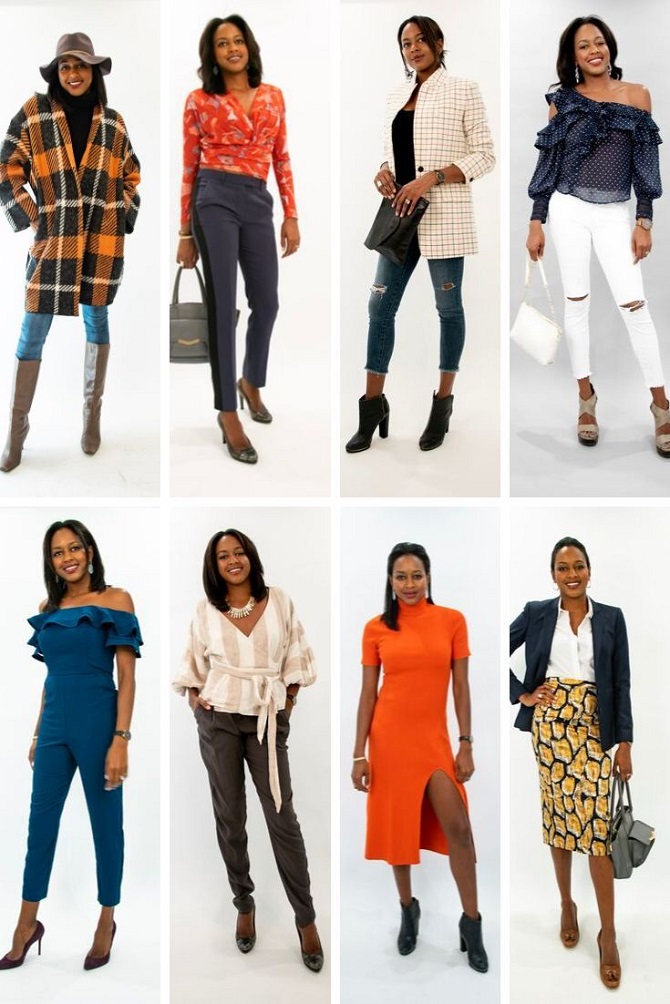 Outfit for Job Interview
If you are going on a professional job interview, the right choice of business attire will project a smart and polished appearance and will create an excellent impression. It is recommended to keep your look conservative and flattering. One of the best options would be a slim fit suit with a white shirt and heels. But don't forget to add some accessories too. Just opt for minimal jewellery and a small black purse to complete your look.
An After-Work Cocktail Party
If there is an after-work cocktail party at the office, you should consider an outfit that will make you appear dressy but also conservative at the same time. To achieve that look, try a dress that has a business-appropriate cut but also a little personality, like a dress with a unique pattern, or with flounced sleeves or a jeweled neckline. You can complete your look with pump shoes and some elegant jewelry. If you don't want to wear a dress, you can put on your favourite slim fit suit but instead of a collared shirt that gives a very formal look, you can opt for a basic white shirt that will give you more casual, after-five appearance.
Summer Business Outfit
Lightweight pants, skirts and dresses would give you a sophisticated look throughout summer months at work. However, even if it's unnecessary to wear a blazer at the desk, keeping one at hand is a good idea just in case you have a meeting. It will give you a more formal and smart look. As for the shoes, you may feel tempted to put on open-toe shoes, but generally, it's best to stick to closed-toe shoes because they are more appropriate for the office.
Winter Business Outfit
Throughout the winter months, you can replace your collared button-up shirts with elegant turtleneck sweaters. These will keep you warm and you will still look stylish. The same goes for your shoes too. You'd need to change your pump heels for heeled boots. To look more sophisticated, invest in a beautiful smart coat and stay warm all winter long.