There are many types of dog beds to choose from, and your furry friend might already have one. But many regular dog beds, even the really cushy-looking ones, don't really protect your dog's joints. His elbows, hips and shoulders can suffer from the pressure of laying on an unsupportive and uncomfortable surface. If comfort, support, hygiene and durability are important for your own bed, then you probably should look for the same qualities for your pet's bed too.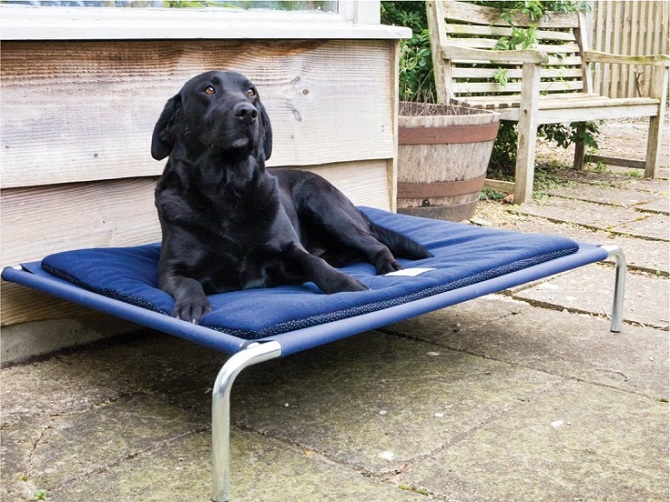 Most owners of senior dogs or dogs suffering from dysplasia choose raised dog beds because they eliminate the struggle of getting up from the floor – the only thing the dog has to do is step in the bed or step out. But the unique design of an elevated dog bed is ideal for all dogs. And some dogs will enjoy the springiness of the fabric a lot – it lets them bounce like it's a trampoline. Whether your dog likes bouncing or not, they'll definitely get the ultimate resting experience and numerous benefits from a raised bed.
Good Support
Stretching on a giant pillow looks very comfy, but it's not a healthy practice in the long run. Dogs need a bed that will provide uniform support, especially as they age. Raised dog beds made of high-quality materials, such as steel frames, are more durable options and will maintain their shape regardless of the weight of the dog, unlike the ones with PVC frames. Another feature to look for is the quality of the fabric. Some brands offer tough, breathable, open-weave fabric that is suitable for both indoor and outdoor use. Thanks to the four blot assembly on the frame, it's very easy to replace the fabric in case it wears off.
Comfortable Temperature
Regular pillow beds can become hot during the summer months and conversely cold in the winter. Bedding on a cold floor builds up condensation, leaving the dog lying on a cold, damp bed. This, in particular, is a problem for dogs suffering from arthritis and circulatory issues. How long can you last sleeping with your mattress on a kitchen floor? Don't you think you'll wake up feeling cold, stiff and slightly ill-tempered? Same goes for your dog.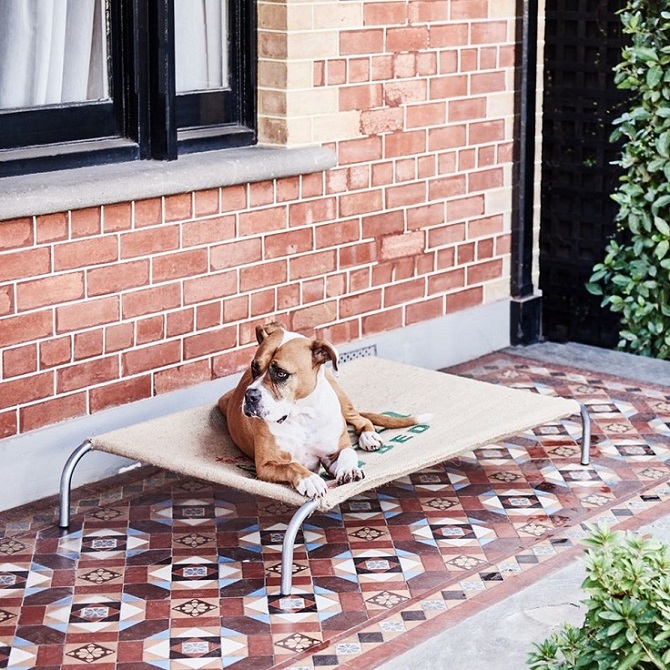 If the floor beneath is a carpet or any other soft surface that tends to trap the heat – then your dog will feel hot. While this floor keeps the pillow bed dry, it's often too warm and a dog can't cool down. You've most probably noticed that dogs get on and off their beds all evening in order to balance the temperature. This puts unnecessary stress on the joints while disturbing a good night's rest.
With raised beds, this problem is completely eliminated as they are thermal insulating. The air is able to circulate freely under and around the bed which keeps the dog cool. In case you live in a hot climate, having a raised bed over a naturally cool hard surface like concrete or tile will keep your dog even cooler.
Easy to Clean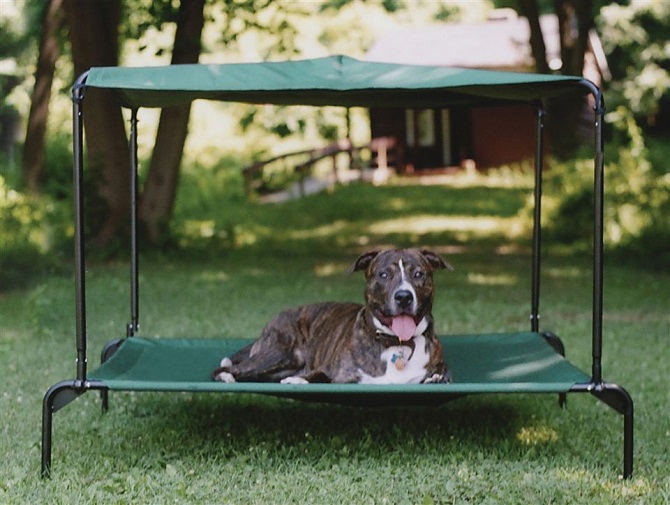 A benefit of raised beds for dogs that most owners love is the ease of cleaning. You can just wipe it with a damp cloth or vacuum it, and you'll get a clean bed fast. On the other hand, pillow beds can collect dirt and hair, which then makes them smell a bit. Although you can wash this kind of bed regularly, you won't be able to truly clean it. The stuffing can still harbour all kind of allergens, like dust mites, dander or pollen from the outside.
In case your god has a flea allergy dermatitis, a raised bed that is at least 20 cm off the ground gives your pet protection from those pesky parasites on the ground. Aside from using a raised bed, make sure you also use effective flea prevention measures.This way, you'll ensure that no flies nor eggs are left behind.
No Stuffing to Chew Up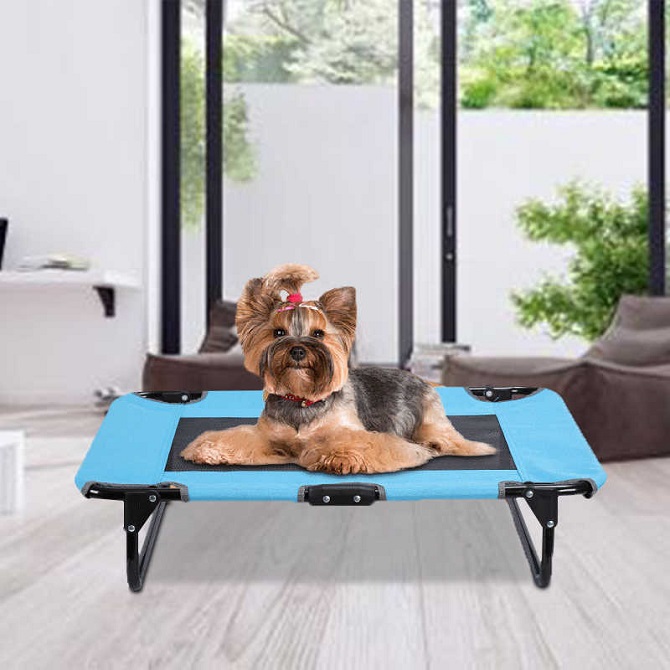 Dogs love to chew things, and figuring out how to shred their own bed is one of their favourites. As with many pet owners, most chances are – you've returned home only to find out the living room is full of stuffing. Worse than that, some dogs have required emergency veterinary care after ingesting foam from their beds. Elevated beds don't have stuffing at all and are a much safer option.
Portable and Convenient
Fluffy beds can be bulky and heavy, which makes them difficult to move and transport. A dog raised bed is more convenient than ordinary ones. Portable, fold up beds are easy to bring along with you on camping trips and vacations, providing your dog with a familiar and comfortable place to sleep in.