Educational establishments are challenging and busy environments. The required flooring performance can depend upon the function of the space. the activity levels and the intensity of footfall. Ease of maintenance, sustainable slip resistance and aesthetics are typically key requirements of most school flooring.
There is a wide range of flooring options. In this article, we are going to discuss the most suitable ones for schools. Each of the provided school floor tiles offers many strengths. Let's take a look.
Vinyl Tiles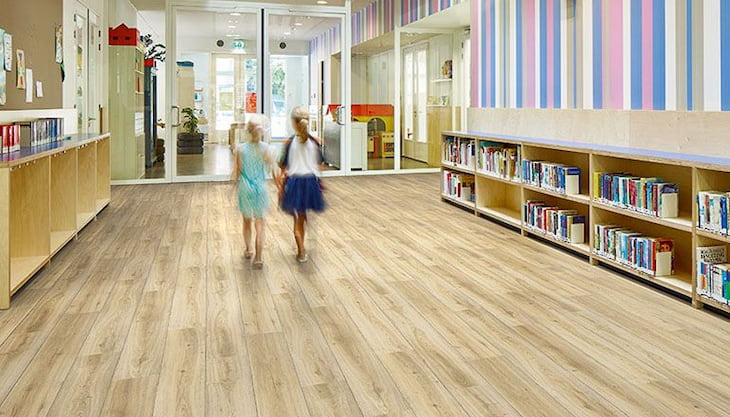 When looking for quality childcare or school floor tiles, vinyl tile is a top choice that has grown increasingly popular across various economic sectors. Vinyl tile comes in two forms: luxury vinyl tile (LVT) and vinyl composition tile (VCT).
Luxury vinyl flooring is 100% vinyl, which means that it is not porous. It uses a photographic layer, therefore it can feature any pattern you like. LVT can even emulate the look of other materials. On top of this, LVT is also a very durable wear layer. It will last for a long period of time and will hold up better underfoot in comparison to VCT. Even though it's deemed "luxury", it is still less expensive than many other school flooring options.
LVT offers excellent performance as a school floor tile in terms of ergonomics and other safety metrics. It is moisture-resistant and waterproof. This type of tile with certain underlayments and backings may offer some "give" that softens the footfall and any falls in general. This is a type of cushioning that makes LVT one of the most comfortable classroom floorings to walk across and play on.
Wondering how do you care for luxury vinyl tiles? Maintaining LVT is pretty easy. You should clean with a moist cloth or mop using only a neutral PH cleaner. Avoid detergent cleaners because they will leave a residue, and over time, a cloudy film. Also, avoid floor polish, oil soap, and polish wax. For daily care, dust-mop, vacuum, or use a broom.
Vinyl composition tile has been used widely in schools for years and years. It contains vinyl combined with limestone and other ingredients. In addition, this makes for a porous material. Being porous means that this type of flooring for schools requires a somewhat high degree of maintenance as it requires regular waxing and polishing. Still, it is durable under high traffic and quite affordable. It seldom tops $2 per square foot.
However, according to long-term cost projection, LVT hits a break-even point with VCT. More precisely, LVT becomes less expensive due to VCT's higher long-term maintenance costs. This is why LVT makes a clearly better choice in almost all circumstances.
Vinyl comes in several different forms. Aside from tiles, which are ideal for school flooring, you may also go with another great choice for early years education – vinyl sheet flooring.
Carpet Tiles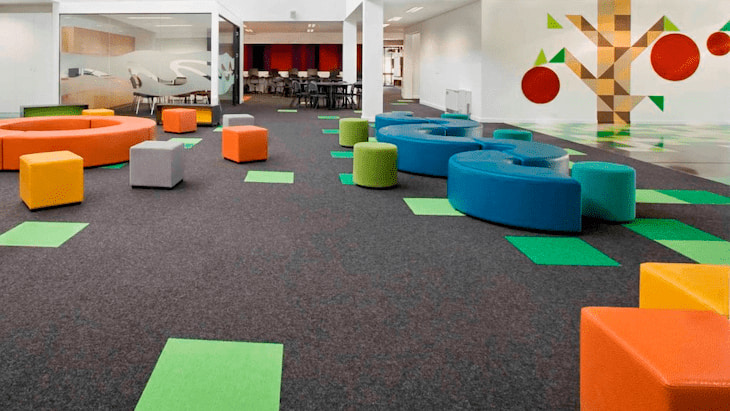 Carpet tiles are ideal for floors that need to be comfortable, soft underfoot, and insulate well. It is often the preferred choice for classroom floors as it is perceived to be the only floor that can suitably protect children during school. Carpet tiles are very durable under heavy foot traffic and slip-resistant. Each tile also has its own base and backing, which makes underlay unnecessary – they are installed directly to the subfloor.
If there is any exceptional damage to the carpet tile, you can pull that tile up without having to remove the furniture from the room or pull the whole carpet up. You simply remove the tile and replace it with another one.
Another advantage of carpet tile is that teachers are usually on their feet all day. All classroom options offer some softness underfoot, but school carpet tile is the best for cushioning stress on joints. When you consider easing this stress day after day, this flooring option can make for more comfortable and healthier teachers who are able to focus better.
There is a huge selection of choices on the market. You can go for colours that soothe minds and improve concentration, or, you can go for graphic design printings that will maximize the utility of the classroom floor.
When it comes to cleaning and maintenance, carpet tile only requires regular vacuuming. However, even though carpet cleaning may seem easy and look like it doesn't take much effort, in truth it's being cleaned less. Bacteria and other residual compounds can embed themselves into the lower layers of carpet classroom flooring that vacuums simply can't reach. From this aspect, LVT is a better option as it easy to clean but it is also designed and engineered to be anti-microbial.
Linoleum Tiles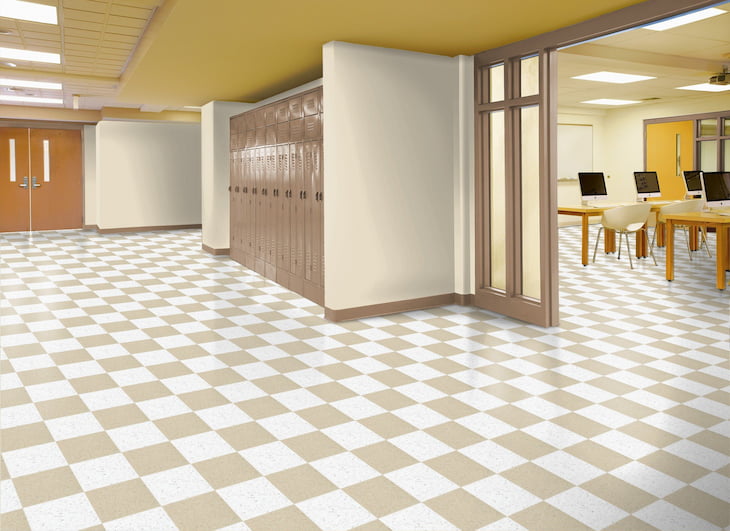 Linoleum flooring is made from linseed oil and it is an eco-friendly flooring option i.e. it's a renewable product. Aside from sustainability, it is also associated with durability, high quality and innovative design. Linoleum flooring comes in a wide range of colours and can even be installed with multiple colours and clever geometric patterns.
This flooring type is available in sheet, tiles, and planks, with tiles being the most practical ones for schools. Generally, linoleum is a little softer than a wood tile or a ceramic tile, which in turn means better traction and a quieter floor. It is pretty easy to clean and maintain, and it doesn't off-gas any volatile organic compounds (VOC's).