The kitchen is the most sacred part of the home for food and cooking enthusiasts. For this reason, it needs to be furnished in a way that provides function but it's visually appealing as well. There are many aspects that should be considered when decorating the kitchen of your dreams. It should complement the rest of the interior décor while retaining its practical function. This can be done by choosing the right materials, style, and elements.
That being said, before buying kitchen utensils and appliances, you need to consider the kitchen fixtures and furniture.
Which Sink Is the Best One for Your Kitchen?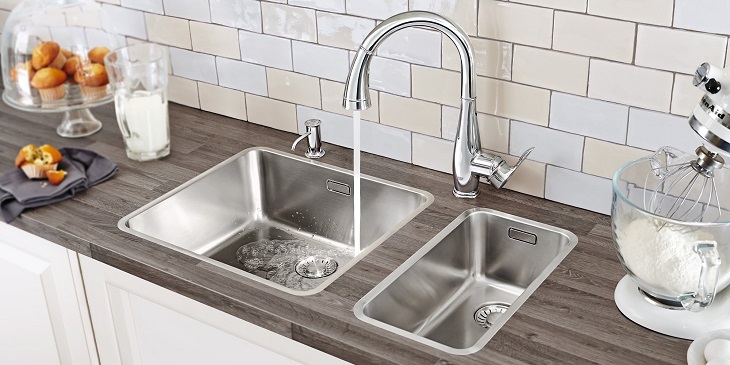 Kitchen sinks can make or break your kitchen appearance and functionality. Although there are various materials you can choose from on the market, most people opt for a quality and durable stainless steel basin sink that will stand the test of time. Stainless kitchen sinks can be found in a variety of designs so you can get the one that best suits your needs. Regarding the shape, they usually are rectangular, square, or round. You can buy a single or double-bowl sink, and they can be undermount, inset, or wall-mounted.
A double-sink bowl is more convenient if you like having more space, and you can wash up in one and rinse in the other. Undermount stainless steel kitchen sinks have no rims because they're installed below the countertop. This makes cleaning the countertop and around the sink easier, and creates a cohesive look so you don't have to worry about whether the sink will match the rest of the kitchen design. Inset sinks have visible rims that protect the countertop from splashes. They can also come with a drainer, which is a useful addition to any kitchen.
Stainless steel sinks can be found in different qualities and this makes their price vary. A high-quality stainless steel basin sink will be more expensive and more durable than the cheaper stainless-steel variants that won't last long. Moreover, it won't rust, absorbs shock, and usually comes in deeper bowl designs. You can easily clean this sink because it's not affected by most chemicals, and it won't stain, fade, or chip. Even if it gets a few scratches, which is understandable after years of use, the smaller ones can be polished with special compounds made for stainless steel sinks.
How to Choose the Right Faucet for Your Kitchen?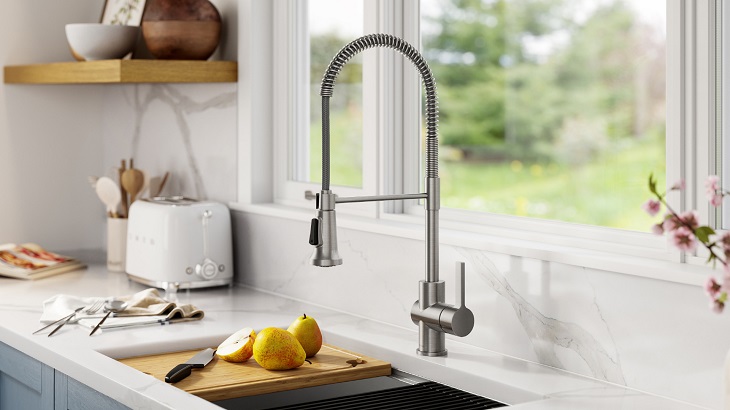 Just like with the sinks, kitchen faucets can be found in various styles. When it comes to the material, frequently chosen options are brass and zinc, but stainless steel is usually preferred due to the same reasons we mentioned for the stainless kitchen sinks.
When shopping for a faucet, consider where it will be installed. It can be a deck-mounted faucet that goes on the sink or the countertop. They're easy to install and there are many options available to choose from. If the countertop is next to a wall, you may prefer wall-mounted faucets that keep the countertop clean and less cluttered. Single-hole faucets don't take up much space and don't need much for installation whereas multiple-hole faucets can require three or four holes because their parts are installed separately. This means that there'll be a need for additional holes if there aren't any and they need more space, but these faucets can emphasise the countertop design like no other.
Many people find single-handle faucets more convenient because the water temperature is easier to control. Also, you only have one handle to deal with when you're busy slicing and chopping. Another important feature is the faucet's height and reach. They can vary a lot in this aspect, so your best bet is choosing one based on the depth and number of sinks you have.
What's the Ideal Kitchen Island for Your Kitchen?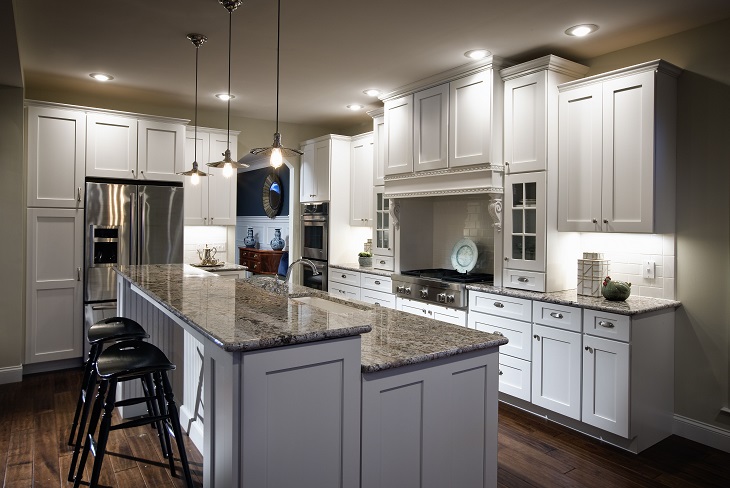 The island is the centrepiece of the kitchen. It's the accent piece in there that can't go unnoticed. Depending on your preferences or the available space, there are several designs that you can opt for.
Movable kitchen cabinets are like carts on wheels. They provide function and storage space and are the ideal option for small kitchens. They can be relocated according to need and once located, their wheels lock to prevent rolling. Non-portable kitchen islands aren't mounted to the floor but can't be easily moved as well. They're a great option if you have decided on a spot where you want to position the island to stay there. You can go for a fixed island as well that's fixed to the floor and is a somewhat permanent solution.
You can go for a fully closed or open design. The closed type requires more material and you can use it for storing everything you need, while the open shelves provide you with a space for displaying your favourite dishware and personalising the space a little bit more. There are other ways as well in which you can make the island more appealing. Opt for detailed legs, if there are any, or countertops that will stand out from the other materials. If it has drawers, decorative knobs can make all the difference.
Depending on your storage needs, kitchen islands can be L-shaped or U-shaped, which offer the most storage space, and they can be circular or galley, which can be really practical when properly incorporated into the layout of the kitchen.